Sziget offers its guests a beautiful setting for its world class production values, and boasts an international crew who put hospitality second only to event safety and quality. Kelly Murray took a trip to the iconic Island Of Freedom to look at what its main stage had to offer…
Hungary's Sziget Festival is a not-so-hidden-gem of the festival world. Set on a tiny island, linked to the city of Budapest by bridge, Sziget now attracts 450,000 music fans from almost 100 countries to experience the week-long outdoor event. 2016 played host to some very sought-after performers from all manner of genres. The eclectic line up that played between 10-17 August included Bring Me The Horizon, John Newman, Sigur Rós, Muse, Rihanna, Manu Chao, Bastille, Sia and Hardwell. It's easy to see why 25% of tickets sold out in the first 24 hours…
The popularity of the event has been cemented in European festival culture, but this year the crew were also in a state of shock and mourning with the sudden loss of Dan Panaitescu, the festival's popular International Booking Manager, who was tragically killed in a traffic collision just three weeks before Sziget 2016. An official statement from the festival read: "We are speechless. We have always envied him for not getting older, but we have never ever thought that he would not get old… The whole festival industry is grieving."
THE SHOW MUST GO ON
With this sadness potentially casting a dark shadow over the festival and its team, Sziget could have easily hit a rough patch. And yet when arriving on site in the blistering heat, the welcoming faces and the camp morale were instantly noticeable. Naturally, road crew have an inherent 'the show must go on' mentality, and this case was no exception. In the backstage area of the main stage, a candlelit shrine was placed near Panaitescu's office, at which all of the people he worked with over the years could pay their respects.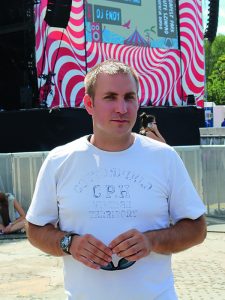 Taking up the role of Head of Production is Daniel Benis, who looks after five festivals throughout the season in Hungary, including Balaton Sound, Volt, Children Island, and Gourmet as well as his biggest production, Sziget. Benis has taken on a weighty task despite his relatively young age. His story is an interesting one; he was, at the start of his career, a history teacher. He explained: "My diploma is in economics and management, so when I decided to join this industry, I had to learn everything on the job."
"What's remarkable is the fact that I became the Head of Production aged 25." He continued: "I'm now 34 years old, and I've learnt so much over the years. The biggest challenge was wanting to change how things were done within the production. I was the new guy fighting with old standards. I'm very interested in health and safety issues and crowd control, and we've progressed with that greatly in recent years. Now we're working with Mojo Barriers I'm educating the security teams on how to use their systems. We need these barriers in place for our pits because they are the best, and we're serious about what we do on this site.
"It's the same with the constant updates in technology, as I'm very curious about new products. I've learned about the MA Lighting grandMA2 desk, and how to operate the Robe BMFLs. We're also using a Martin Audio MLA system for the second time, and we're very happy with the results once again. As always, it's been tiring but we're happy with what we've done so far. The good thing about our production is that we're always looking for ways to improve. Next year we know already that we're going to make this stage bigger."
"Outside of the technical aspects, we've also invested a lot in making the festival a great place to visit in terms of what it looks like. People are coming to Sziget on holiday so they have to want to stay on site for a week."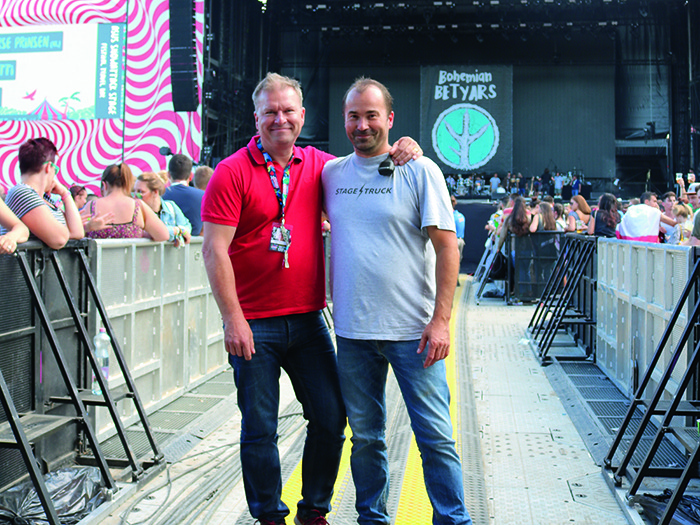 Benis' right hand man is Stage Manager and acting main stage Production Manager Zsolt Szicso – fondly referred to as 'George', much to the relief of TPi's questionable accent. He himself has a long history with the festival, begining his time with Sziget in 1993 as a lighting tech. In 2002 he left to concentrate on political and corporate event production before being asked back by Panaitescu four years ago to take up his current role. He told TPi: "It's not as simple as saying 'this is my job and that's the only work I undertake'. We all help each other with various duties. I work on the technical production, with booking agents, in hospitality; we're always working as a team. It's the Hungarian way to do more than one aspect of a job and pitch in all together."
Over the last few years Szicso has seen the changes implemented on the main stage such as the introduction of the Martin Audio MLA system from Capital Sound, lighting rig changes, and the addition of the Stageco roof. He continued: "The key thing for having a successful stage is having a great team to work with – I need people around me that I can trust. It's very important to look after every band that plays on your stage too, it's not just about the main headliners. We want to understand why someone is happy or stressed so that you know what's working or if a problem needs fixing. At Sziget we want people to feel at home. Obviously how the stage is delivered affects the arts and their crew, but it also affects the crowd's experience."
Szicso was also keen to heap praise on his Finnish Co-Stage Manager, Peppi Lotta Arrimo: "We've worked together for two years now at the festival. She's become an essential member of the Sziget main stage family."
THE AUDIO SOLUTION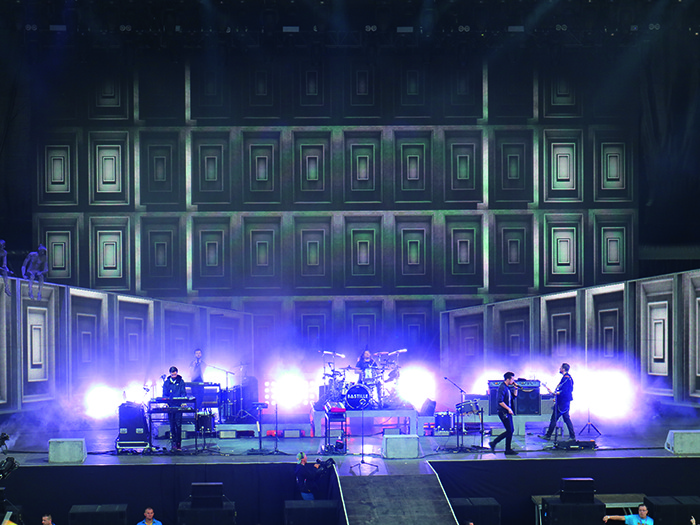 Following an introduction to the festival organisers at Germany's Prolight+Sound tradeshow, Capital Sound first supplied equipment to Sziget in 2006 with its Meyer Sound PA inventory and some DiGiCo D5 consoles for FOH and monitor duties. Over the next decade, the relationship between the British rental company and Hungary's premier music festival became cemented, with Capital's Paul Timmins looking after the account. It was determined that, as the festival was growing in size, so should its main stage audio design. Timmins recalled how he's seen the festival develop into the heavyweight attraction it is today. "By 2009 we were sending a complete A+B flip flop monitor system for the main stage with local Hungarian vendor, Expander 2000. 2010 was the first year we supplied – with the exception of the delay towers – the complete main stage system. At this point we were still only sending  one audio tech over from the UK and the local Hungarian crew worked with the system. Over the next couple of years we continued to upsize and upgrade the design. In 2011 we were very close to providing a festival package that would be considered UK standard. By 2013 we'd made a key investment with Martin Audio's MLA system due to the demands we were seeing for that particular system at venues such as London's Hyde Park for the British Summer Time events.
"In order to continue our relationship with Sziget, we sourced the new Meyer Sound LEO system from a Meyer Sound rental partner in Poland as per the festival's request. Then in 2014, as our track record at delivering quality audio had been established, we were asked to look at supplying audio for Sziget's sister festivals Volt and Balaton Sound."
An important aspect of Capital's DNA is its knowledge and expertise when it comes to different sound systems. It currently offers four different audio brands to its clients – Martin  Audio, Meyer Sound, d&b audiotechnik and Outline – with a 'one size does not fit all' motto.
As Capital was going through its own inventory changes, Timmins suggested that the festival should consider using the MLA system for all three events. He continued: "We were now dealing directly with the festival and it was decided that Capital would supply both Volt and Balaton Festivals in order to try the MLA system, but Sziget's main stage was again awarded to their local supplier. The MLA proved itself however, and in 2015 MLA was also specified  for Sziget."
The supply included four main MLA field delays and a central mix tower of MLAC delays. "Due to the incredible success of how the MLA performed in 2015 we managed to get through a lengthy tender process and have now secured a contract with MLA for the next couple of years, which also includes supplying the two sister festivals," said Timmins. "I'm really happy about it because we love being involved with these festivals. The teams in Hungary are great to work with because they genuinely care about their events. They're very passionate about what they do, and that makes it all the more worthwhile when you're sending trucks of equipment over. We also get to meet a lot of touring crews coming through and using the MLA system. It's been a really popular move to make.
"The 2016 MLA design rocked, even with the increased audience size this year, the optimisation tweaks gave incredible coverage and high SPL across the whole audience area. The Introduction of the Spaced MLX sub array gave impact and control with headroom for even the loudest acts. Sound system choice may be subjective, but all of the visiting engineers this year were complimentary about the design and PA performance. Muse's crew in particular went out of their way to express their delight with the system."
To complete the audio package, Capital also supplied two Avid Profile desks for FOH and two Yamaha PM5Ds for monitors. The latter was specified for the last time, as Timmins noted: "The PM5D is a very standard desk to use at monitors – it's been seen on festivals everywhere for the last 10 years – but we've made the decision that it will be the last time we supply it; we're moving into a new era and replacing those desks with the Yamaha CL5 console."
For RF, six ways of handheld Shure UHFR radio microphones were chosen, and Shure was also the brand of choice for in-ears, resulting in the specification of 10 PSM1000's. Although most artists brought in their own microphones, a mixed package of Sennheiser, Shure, Audio-Technica, Harman's AKG and Audix was supplied.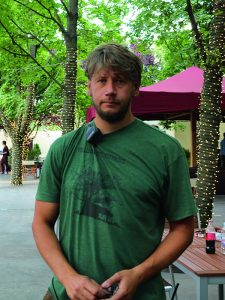 Handling the sound teams on site is the Hungarian Audio Crew Chief, Marci Mezei, himself a Sziget veteran. He told TPi: "I spend a lot of my year on tour, but when I'm travelling, I work on Sziget. I must like this festival  because I keep returning – it's my 15th year here and my 13th working on the main stage. The festival just keeps getting stronger."
THE 25TH CELEBRATIONS
2017 will mark the 25th anniversary of Sziget Festival, taking place on 9-17 August.  We've been left in no doubt that this milestone will involve some extra special celebrations. It certainly delivered a wealth of local and international production knowledge that has worked tirelessly to produce a space that welcomes each and every person with respect and outstanding hospitality.
The festival encourages you to come for a holiday and leave your worries behind as you enjoy a first class festival experience and from what we've seen, whether you're a part of the crew or a member of the audience, the Island of Freedom has set its Hungarian heart on giving you an experience to remember.
TPi
Photos: TPi, Plaster Creative Communications
http://sziget.hu/fesztiva
www.capital-sound.co.uk
www.kiosk-budapest.com
www.colossal.hu
www.visualpower.hu
www.stageco.com
www.mojobarriers.com
www.q-sfx.com